Pennsylvania, Allegheny County, Division 11
Congratulations to Sr. Louise Grundish, SC, chaplain for the Allegheny County Board and Allegheny County Division 11, who celebrated 65 years as a Sister of Charity, Seton Hill, Greensburg, PA
————
Terry Meyer, LAOH NYS Missions and Charities, received an email for help in recovering a grotto that was discovered behind Mt. Alverno in Warwick, NY. Mt. Alverno is the home of retired Franciscan Sisters and their cemetery. Terry had the great pleasure of touring the grounds and grotto along with the men's Orange County President Tom McDonald.
The site was found in overgrown bushes and fallen trees in the late spring behind the cemetery and hasn't been touched in many, many years. In fact very few of the Nuns knew it even existed. The grotto is dedicated to Our Lady of Lourdes and St. Bernadette. As near as they can tell this grotto is from around the late 1800's. One formation is marked 1895 and it is believed the Stations of the Cross are from around 1924. Different organizations have been involved with clearing and cutting trees for weeks. The AOH and the Knights of Columbus and have donated their time and most of the heavy work is completed. The LAOH of Orange County was asked to help with raking, sweeping, and cleaning up. The LAOH help place flowers by the Stations of the Cross and the grotto.
A mass was held at the grotto Saturday, August 13, 2016 to rededicate the grotto and bless the Stations of the Cross.
————–
LAOH Sisters of Erin, York County SC. They marched in the 20th annual Charlotte NC St. Patrick's Day Parade. This year's Grand Marshal was Anne Anderson, Ireland's Ambassador to the US.
Photo below is the Fort Mill SC, AOH Bishop Emmitt Walsh Division, President Brian Greene, the ambassador Anne Anderson, Margie Willis president of Sisters of Erin York County SC and division historian Linda Dyer Hart. Linda is also a founder of the Charlotte parade.
Utica, New York St. Patrick's Day Mass and parade that the LAOH, Our Lady of Knock, Div. 17, Oneida County participated in. The Mass was held on Friday, March 11th at St. Joseph and St. Patrick's Church.
The Utica, NY parade, held on Saturday, March 12th, is the 3rd largest in New York State and had 120 participating units with 5 pipe and drum bands. We had brilliant sun filled blue sky with temperature in the mid 40's at the start of the parade. Taws' a Great Day for the Irish.
Allegheny County Division 11 St Patricks Day Parade & Crowning of Miss Smiling Irish Eyes Luncheon.
Our Lady of Knock Northern KY Division marched in the Cincinnati St. Patrick's Day Parade.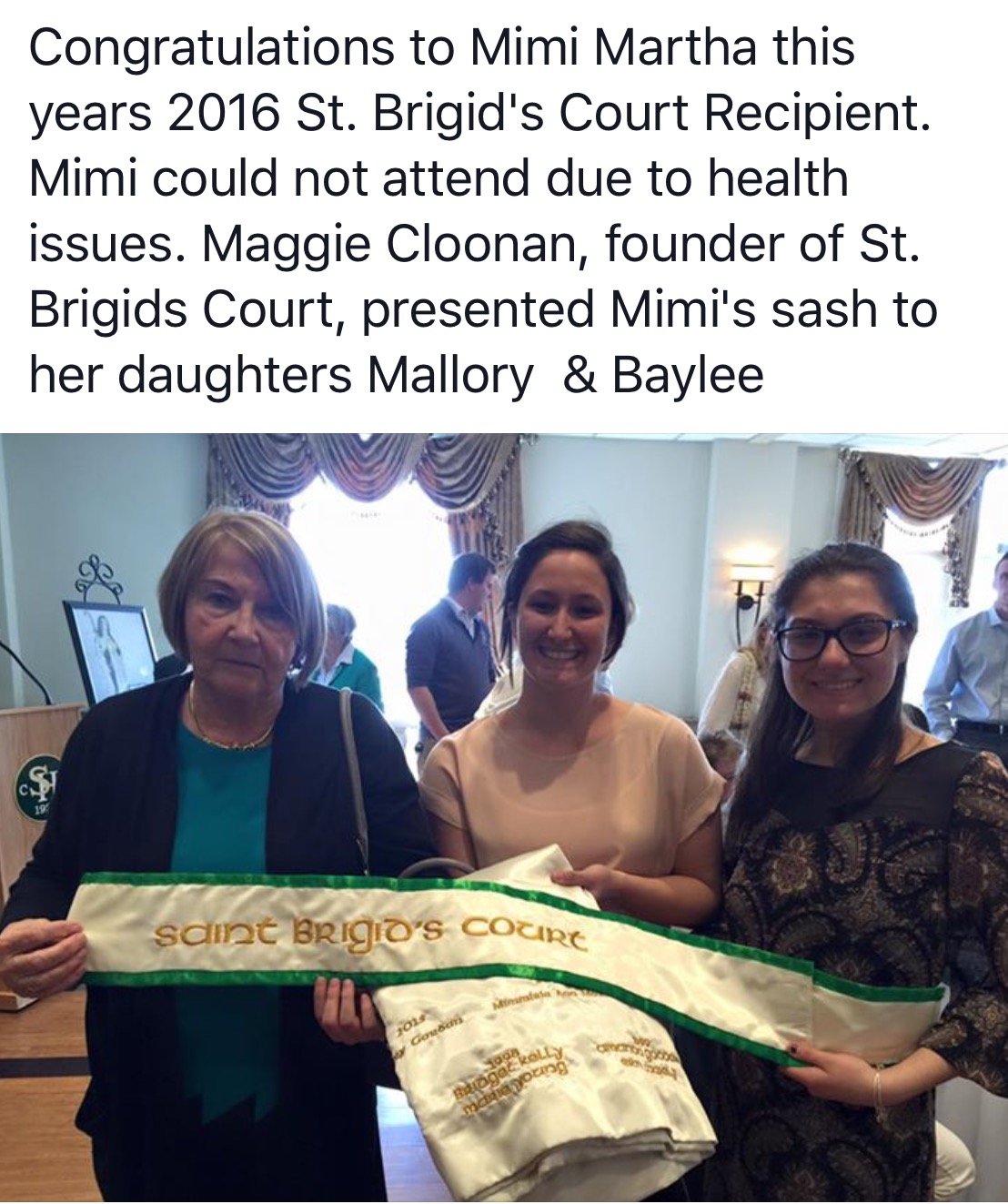 2016 St. Brigids Mass, Allegheny County Division, Fr. O'Shea,
Dorothy Weldon, Shirley Murphy, Kathleen Deulus, Maggie Cloonan, Colleen Bowers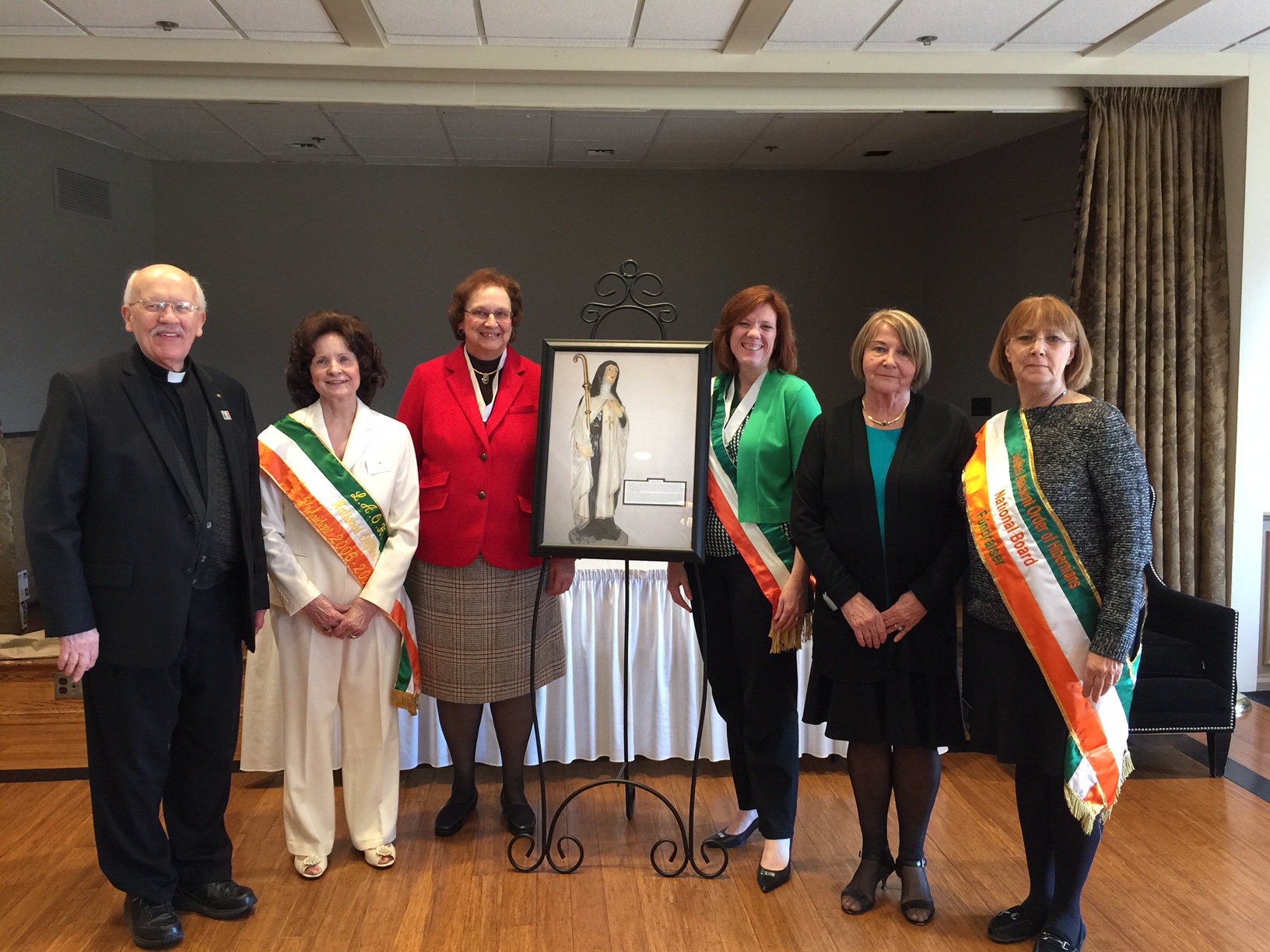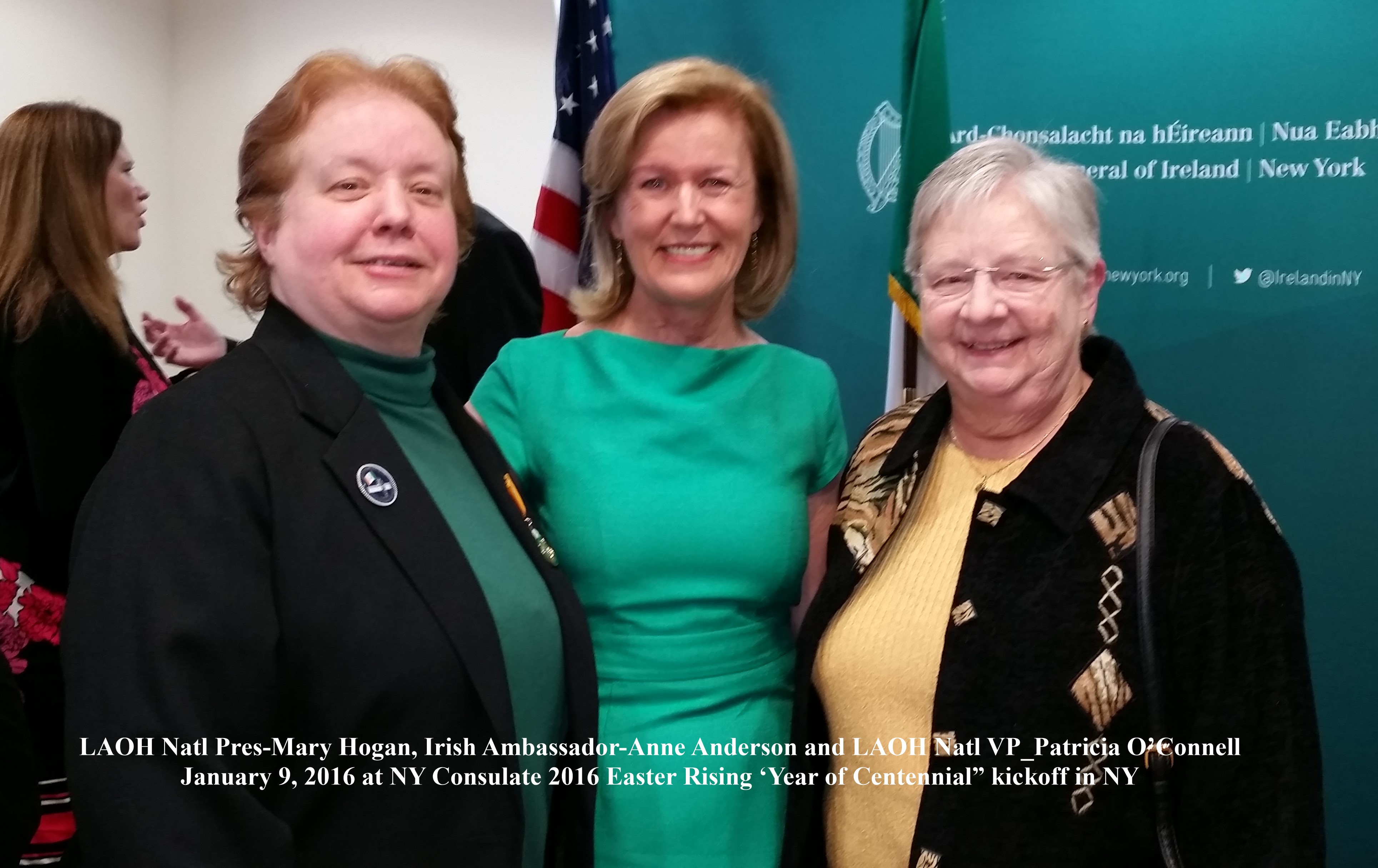 2016 Centennial Kickoff Mary Hogan, Anne Anderson, and Pat O'Connell January 2016
Alleghency County Division 11 Memorial Mass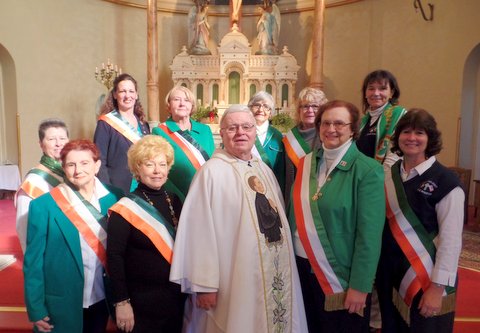 Pictured here are Allegheny County Division 11 members who attended the annual Memorial Mass for Deceased Members:
front row L-R): Mary Ellen Myers, Catholic Action chair; Pat Tragesser, FFAI chair; Joy Short, mass coordinator; Fr. Harry Nichols, Pastor St. Stanislaus Kostka & St Patrick Parishes; Shirley Murphy, Vice President and PA State Historian; Shirley Sestric, Division President and Allegheny County FFAI chair.
(Top Row L-R) Liz Rowland, Maggie Cloonan, Eileen Curran , Peggy Regan, Sentinel; and Marlea Gallagher.
JFK Division #3, St. Louis attending Our Lady of
Knock Mass
St. Bridget's, Division 4, NJ Monmouth County Scholarship Winner
The LAOH St Bridget's Division 4 from Monmouth County, New Jersey awarded the Catherine Dean Community Service Scholarship at their June 18, 2015 meeting. The winner of the $1,000 scholarship was Allison Anna LaRochelle from Belford, NJ. She attends Red Bank Regional High School, Visual & Performing Arts Academy in Little Silver NJ.
While a member of the National Honor Society maintaining an average of 96.35, Allison finds time to donate the services of her band Crimson Sky to many fundraising activities. She also volunteers monthly donating her time to 180, a nonprofit organization that supports battered women in New Jersey.
Allison is shown here with (left to right) Patty O'Malley, VP of St. Bridget's Division 4 and Scholarship Chair, Allison LaRochelle, Scholarship Winner, Kathy Stark, Scholarship Committee, and Alberta Brogan, President of St. Bridget's Division 4.
St. Brigid's New York News and Pics-LAOH Division 22
MacLellan Byrnes Wedding: April 17, 2015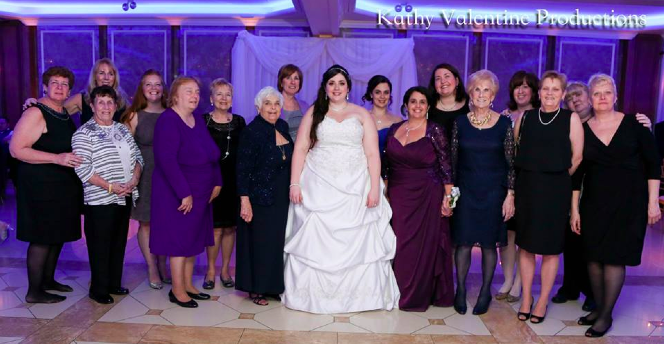 Left to Right: Joni MacLellan Staiano, Mary McGeeney, Debbie Moloney, Linda Gallagher Lomanto, Joann Gundersen, Judy Rose, Patricia Watt, Kathleen Moloney, Kelly MacLellan Byrnes, Meghan MacLellan, Kathleen MacLellan, Kathy (denise Benardello-Frederick was also in attendance.)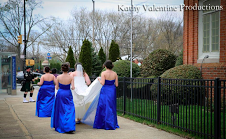 Pasta Night:
Bay Ridge St. Patrick Day Parade Committee: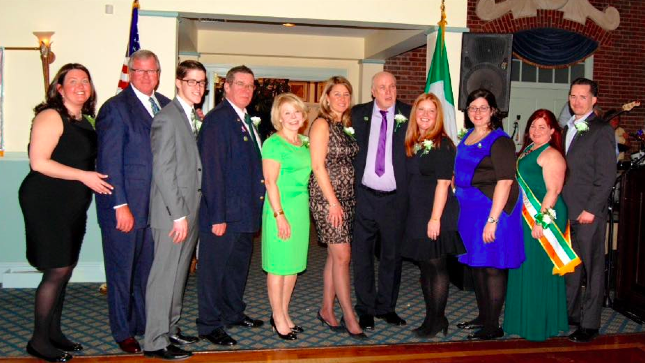 Left to Right: Kathy Burke, Peter Clavin, Brendan Moloney, Tom MacLellan, Barbara Slattery, Denise Benardello-Frederick, Frankie Marra, Linda Gallagher-Lomanto, Kelly MacLellan Byrnes, Eileen Brett and Patrick Harkin.
Ohio State Board Meeting
Members of LAOH Our Lady of the Rosary Division at the Remember the Women of 1916 Event Cleveland, Ohio
Missouri State Officers 2015-2017
Missouri State LAOH held their State Covention in St. Charles, Missouri on April 17-18.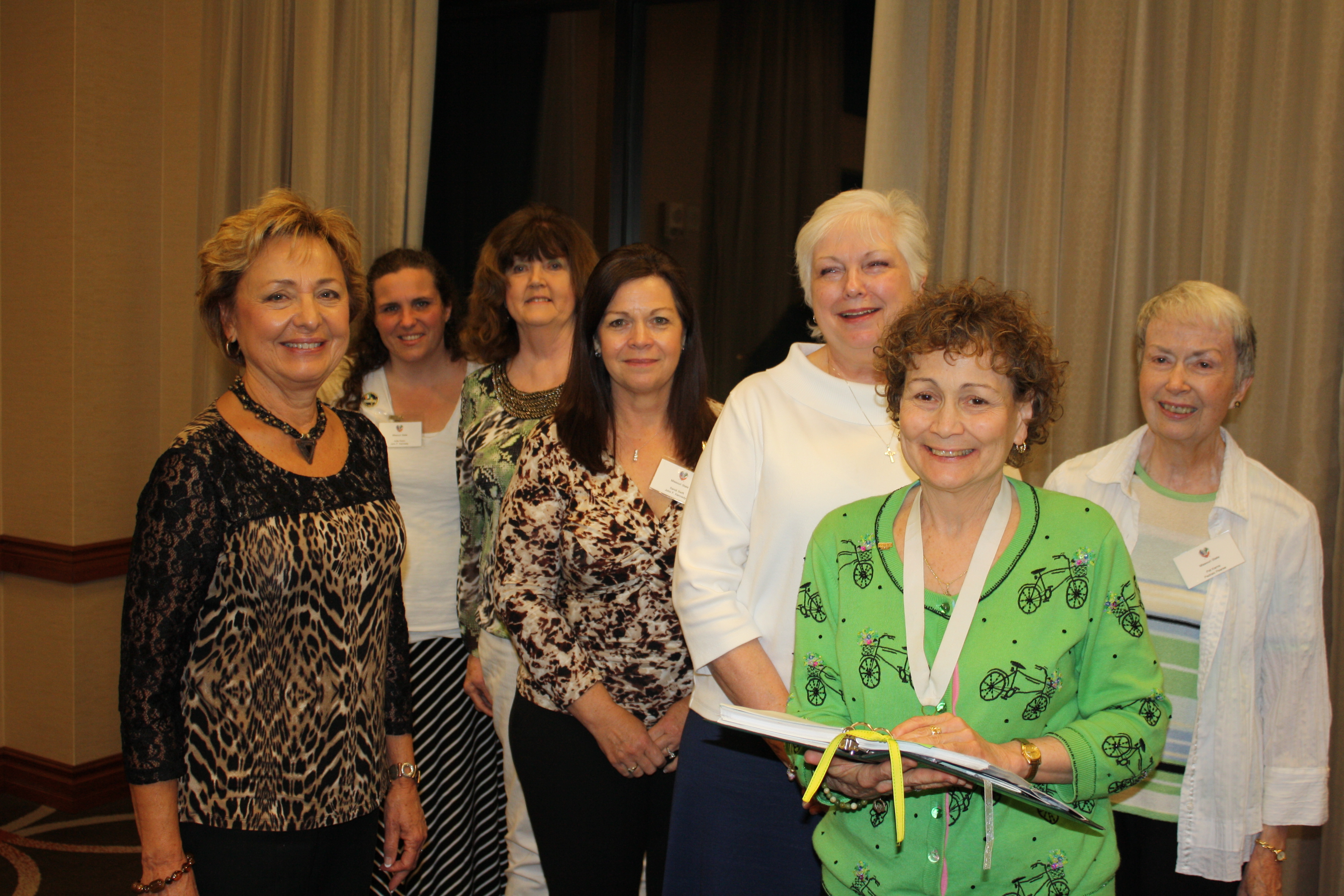 New Officers elected: Installation of officers: Joan Barry (proxy for Julia Hogan/ Catholic Action, Julia Dunn/Historian, Loretta Sheerin/Treasurer, Sandi Swift/Secretary, Patty Clark/Vice President, Mary Kathryn Victor/President, Pat Karns/Missions & Charities.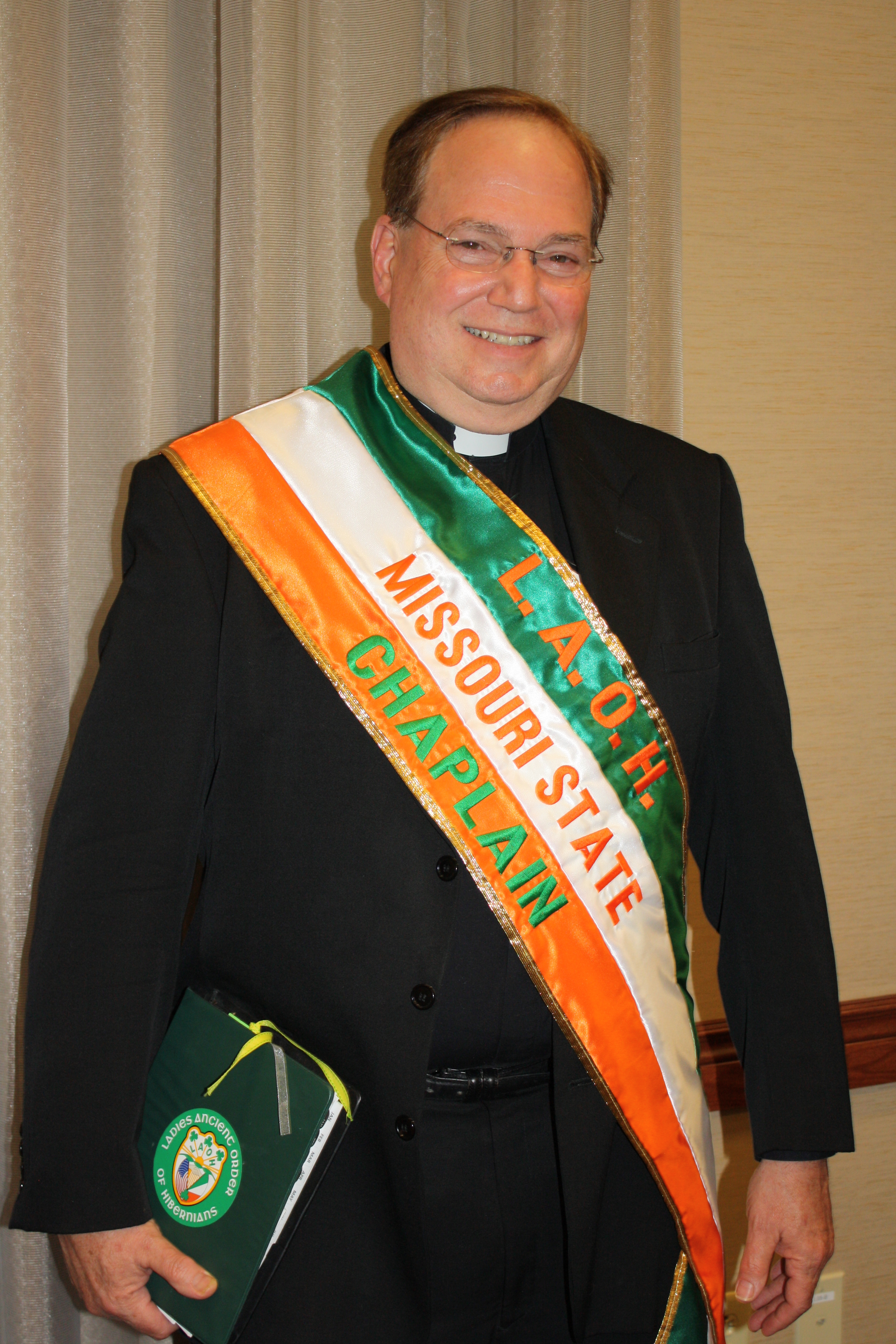 Fr. Larry Herzog, Missouri State Chaplain.
Bristol Division #1
President Nancy Cullen and Secretary Rae DiSpaldo recently installed the officers. Left to Right: Patricia Gallagher-Treasurer, Dolores Lyman-Irish Historian, Colleen Sims- Missions and Charities & Catholic Action Officer, Helen Linski-Financial Secretary, Jeaneane Dial-Vice President, Martha Henderson-President, Alison Hughes-Recording Secretary, Nichole Fallon-Sentinal, and Donna Deitz-Mistress-at-Arms.
St. Patrick's Day Fun from Pennsylvania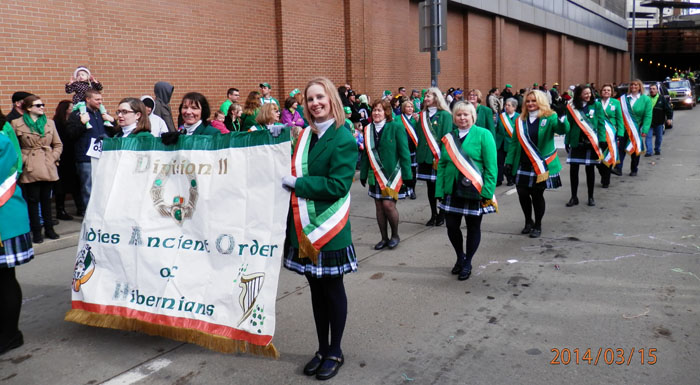 Allegheny Div. 11, Pittsburg St. Patrick's Day Parade
Broom Co., NY Women's Little Christmas
The following pictures were submitted by Broome Co., NY LAOH of their 48th Annual St. Patrick's Day Parade.Marching in the Snow; Grand Marshall Bill Newland, Maid of Erin, Tess Hatton, Official Starter Matt Lewis; Broome Co. Participating Pipe Band.
The following is submitted by Dee Ramp for the Richmond Div #1 in Agusta, Halfway to St. Pat's Day .February 21 was a very special evening in Augusta for the half way to St. Patrick's Day festivities. The Richmond 1 Division sponsored an Evening in Ireland with Irish Dancers, Irish Music, food and raffles. All monies raised from this wonderful evening go to Catholic Social Services to help Sister Janet feed the hungry, clothe the needy and help to pay utilities and find employment for those that are out of work. This is one of the largest fundraisers we have and thanks to all that participated and made this such a very special evening.