Meet Our Degree Teams
The Degrees of our Order are an essential part of being a member of the Ladies Ancient Order of Hibernians, Inc. Each member, when receiving the Degrees, is shown the grand history of the Irish people and Catholic Faith, the  importance of women in that history, and is sworn to a solemn obligation that is taken as Degreed members. Every member wishing to advance in the leadership of this Order, as well as every member wishing for a deeper understanding of the Order, is encouraged to take the Degrees as soon as possible after initiation, or as soon as made available. The importance of the Degrees cannot be put into words and must be experienced by each member to be fully understood.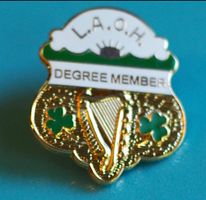 State: Florida
Our Lady of Knock Team
Interested in joining a Degree Team?